Accomodation
For undergraduate students, college offers a small variety of room types. There are the main rooms within college situated on the "Straights" (A/B/C-Straight) or the "Curves" (B/C - Curve). The mystery of A-Curve persists to this day. All rooms on the straights are single, and half of the rooms on the curves are shared.

Shared Rooms
Shared rooms aren't something to be feared. Room-mates are paired by the President based on the accommodation form that you submit. The President works very hard to match people with similar personalities together, so you are very likely to make a new friend very quickly. In the rare event that you are not comfortable with your chosen room-mate, you can talk to college staff about moving rooms.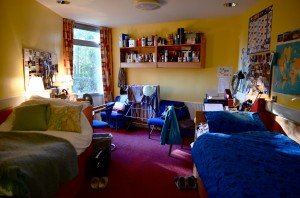 Single Rooms
Single rooms are just like shared rooms, only for one person. You will get plenty of space, both for storage and for moving around. Your location in college will be assigned by the President. The accommodation form is used to ensure you are placed near people with similar personalities, so that you will meet some wonderful new friends early on in your stay.
Your Desk
There is plenty of desk space for you, and you will be provided with a desk lamp (which are above you, before you start getting confused - the ones on the desk are the student's personal lamps). You will have an ethernet port for wired internet, however super fast Wi-Fi is also available all around college. If you are unable to connect to Wi-Fi, get in contact with the IT Officer.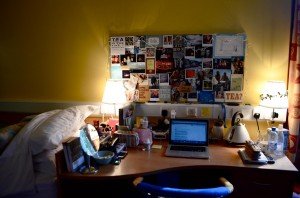 Storage Space
Each room comes with plenty of storage space. You will have a wardrobe, along with various storage areas above them, under the sink, and also under the bed.